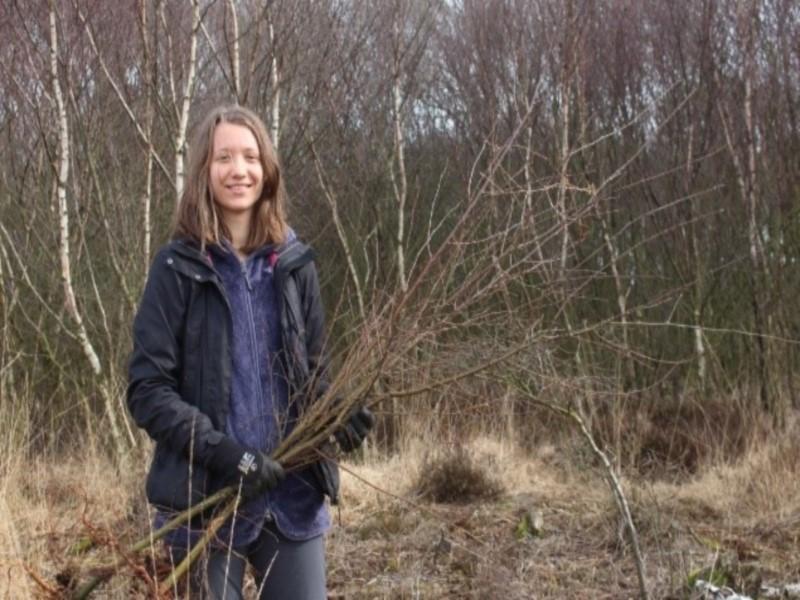 I am a fourth year MSci student studying zoology at Manchester University. Upon completion of my degree I am looking to get into conservation.
I have been volunteering regularly (once every couple of weeks) with the Carbon Landscape since November 2017 and mainly work on Cadishead and Little Woolden Moss. I really enjoy volunteering with the Carbon Landscape, the work is very varied. We mainly carry out scrub clearance, but have also done some heather planting and built willow tit corridors. I am really looking forward to helping out with animal surveys in the coming months.
I volunteer with Carbon Landscape for a number of reasons, to gain career experience and practical skills, but also just because I really enjoy being outside and working with other people.
I was very pleased to have the opportunity to become a certified first-aider thanks to the Carbon Landscape. Knowing the correct course of action to follow in an emergency gave me new confidence not only when out volunteering, but also in my day to day life. The obtained certificate is also a great asset on my job applications.
I am currently undertaking an AQA in peatland conservation and have so far found it very helpful in bringing together the experience and knowledge gained during my time volunteering. I particularly enjoyed the fact that to learn some of the skills I had to visit new sites - it was very interesting to see and compare mosslands at various stages.